Welcome to the Mickey and Me Blog Hop- November 19, 2011. This should be your 3rd stop in the hop, but if you are starting here please be sure to head
back to the beginning when you are done
. You don't want to miss the amazing projects that came before me!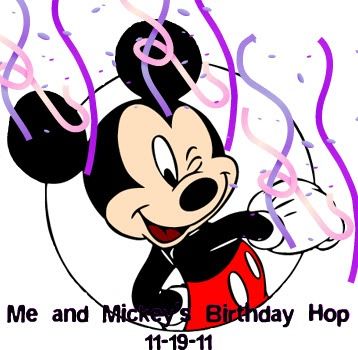 First, I would like to thank
Michele Green
for organizing this blog hop and for inviting me to participate. I feel honored to be included alongside all of the very talented bloggers in this hop. Second I would like to wish
Rexann
a very happy birthday-
be sure to stop by her blog and leave some birthday wishes for her
. Like Rexann, I love all things Disney! Earlier this year I was able to take my two little boys to Disney World for their first visit. I have gotten a fair amount of their scrapbooks done, but there is so much more to do. I love that I have been able to use this blog hop as inspiration to get another layout done.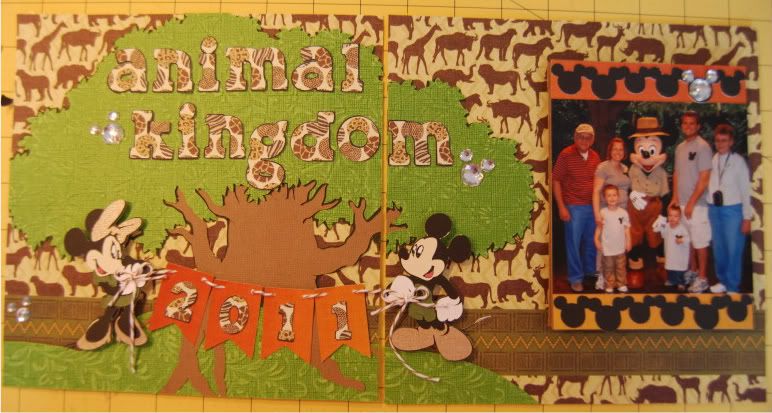 I have been struggling with how to complete my Animal Kingdom pages for months. I really wanted to feature the tree of life somehow, but there aren't any Cricut Cuts for the tree. I really wish PC would create a cartridge specific to the Disney Parks- I think that would be amazing. I considered designing something with that program "that shall not be named", but I really wanted to stick to cricut cuts for this blog hop. So, I went searching through my handbooks to find a suitable tree. I found one where I didn't expect- Pooh and Friends! LOL. I should have known that it would be hiding on a disney cartridge. The challenge was that the tree has a door at the base and some other Pooh specific features. With a little help from my G (welding a grassy base to the tree- Paper Doll cart), some hand trimming, and a bit of creative embelishment placement- I think I was able to accomplish my goal! While it isn't a perfect replica of the tree it is a pretty good match. If you would like more details on the tree leave me a note and I will try to do a seperate post on the tree itself.
Other unique elements of the layout include Mickey and Minnie dressed in Animal Kingdom style, the date banner- creatively placed to cover where Pooh's door should be :), and the photo foldout that holds 5 photos. I also added a few not so hidden Mickey's using gems as a bit of a finishing touch. If you would like to see how all of the elements came together, please be sure to watch the short video in this post!
Thank you for stopping by for the Mickey and Me blog hop. Please be sure to continue on with the hop and visit all of the amazing ladies who are participating.
Here is the complete blog list for you:
And of course what's a blog hop without some blog candy? In honor or Rexann and her birthday I will be giving away a Cricut Birthday Cakes Cartridge. This is an amazing cartridge with a full font and a variety of cuts! A must have for every cricut lover! To qualify you must be a follower of my blog and leave a comment on this post telling me who your favorite disney character is!
Please be sure to leave a way for me to contact you as well. The winner will be chosen at random on Monday, November 21, 2011 and the package will be mailed within one week of the announcement. I will provide shipping to anyone inside the US via the USPS. If the winner resides outside the US, I do ask that you pay the shipping charges.
(DUE TO THE EXTENSIVE ISSUES THAT SEEM TO PLAGUE BLOGGER- IF YOU CAN NOT LEAVE A MESSAGE HERE PLEASE EMAIL ME AT
CREATEDBYMISSIE@AOL.COM
TO BE ENTERED)