A couple of weeks ago I attended the Cricut Circle Stampede in Dallas, TX. During the event several make and take stations were set up for us by some of the sponsoring companies. I don't know about you, but I love make and takes. I love to try new products, techniques, and designs I would not have done on my own. The problem is, I tend to just throw them in a drawer never to be seen again. Well, I am determined to do something different this time. I am going to attempt to find ways to use all of the Make & Takes from Dallas.
Here is the Sample project for the first Make and Take.
I didn't have any idea where to start with this one. They gave us the cuts, and that was all. While the tag is very pretty, it isn't a color scheme I would normally use- of course that is part of the Challenge...to do something outside my comfort zone. I choose to incorporate the tag into a scraplayout. Let me know what you think.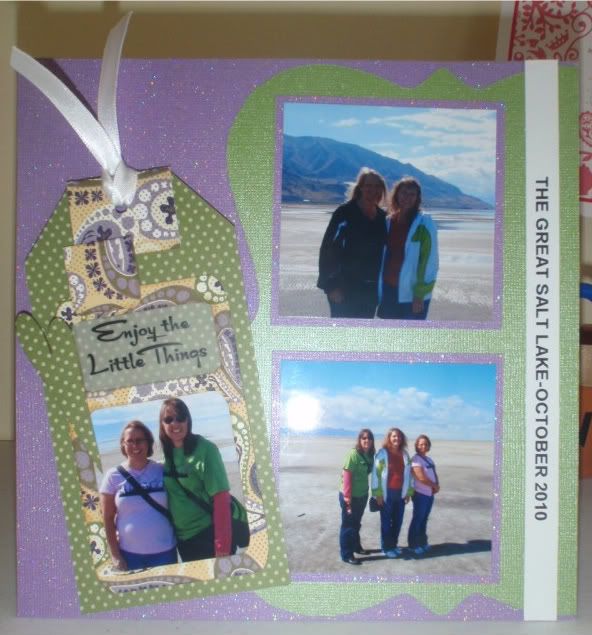 I started with the tag, added a photo of
Jan
and I from our excursion to the great Salt Lake in October. I cut a cute frame using my Shall we dance cricut cartridge in green the layered the other photos (with Tracy and Judy) with 1.8 inch mats. I wanted to pull in the white from the ribbon so I grabbed my label maker and printed up some quick text on white to add a small amount of labeling to the page. While the page is quite simple it did help me accomplish two goals. I got one layout completed from my Utah trip and I used on of the make and takes from my Dallas trip!