Welcome to day two of the SweetSassyDiva Birthday Blog Hop!
We are celebrating Bobbi Jo's (SweetSassyDiva) birthday this weekend March 10th and 11th. Each day will be a new project and be sure to check out the yummy blog candy giveaways! If you missed the first day be sure to check out yesterday's projects as you hop along. Be sure to scroll down to see yesterday's post on my blog.
If you've hopped over from Lori at
http://scrappinmystressaway.blogspot.com/
then you are in the right place. If you've just popped in to visit my blog or are reading this via email and would like to join our SweetSassyDiva Birthday Blog hop and FUN then, please start at the beginning with Bobbi Jo's
blog
http://sweetsassydiva.com/
because...starting at the start is always SMART! :)
We have a WONDERFUL Grand Prize for one lucky hopper that is donated by Bobbi Jo!
To be eligible, please visit each blog hop stop leaving a comment also, become a follower at
http://sweetsassydiva.com
and be sure to leave a comment! One random winner will be chosen on Wednesday, March 14th, giving you plenty of time to finish the hop.
Today I would like to share a project that coordinates with the birthday card I shared yesterday. This banner is a perfect addition to any birthday party. I am planning to hang it up on my birthday in a few weeks. I created this card using the CTMH Art Philosophy Cartridge and my cricut. The papers and stamps are also CTMH. The font on the banner was created using the cricut circle exclusive cartridge letter envy. And of course if you know me, you know I love all things girly, so of course there is a lot of bling and some tulle involved.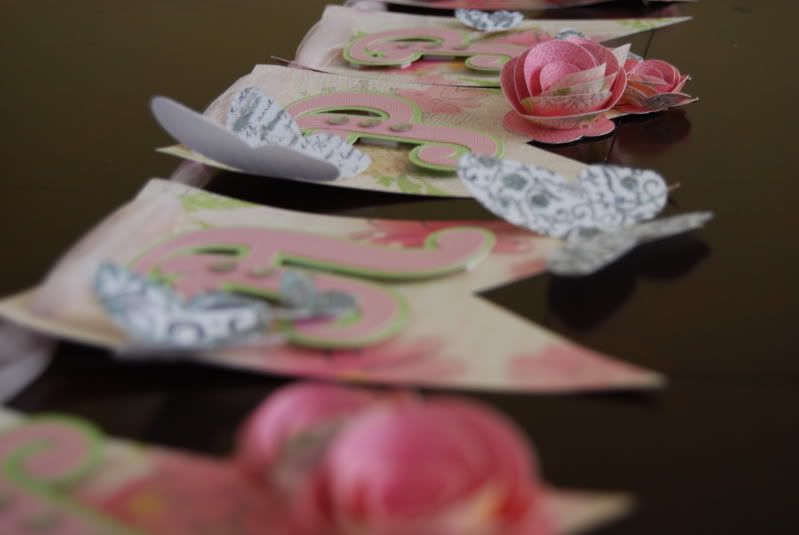 Here are some details on the project for those who are interested.
Paper: CTMH Lucy Paper Pack (x7149b- $9.95)
Paper: CTMH Daisy White Cardstock ( 1385 $9.50)
INK: CTMH Black (z2105 $5.25)
INK: CTMH Blush (z2103 $5.25)
CARTRIDGE: CTMH Art Philosophy (z1686 $99.00)
STAMPS: CTMH Universal Backgrounds (d1477 $17.95)
STAMPS: CTMH For every occasion (d1187 $17.95) RETIRED
STAMPS: CTMH Backgrounds and boarders (d1463 $17.95) RETIRED
CARTRIDGE: Letter Envy
and of course Glitter, lots and lots of glitter!
Ah, and now for the fun part! What's a blog hop without some blog candy? I am offering up a $10 Close to my Heart Gift card to one lucky reader today. The winner will be selected via a Random.org drawing on March 14, 2012. To be eligible to win you must be a follower of my blog and leave a comment on this post and leave your email address in the post. The winner will have one week from the drawing to contact me via email at
createdbymissie@aol.com
to claim their prize, the email must match the email in the entry post. This GC can ONLY BE REDEEMED via the issuing consultant (ME).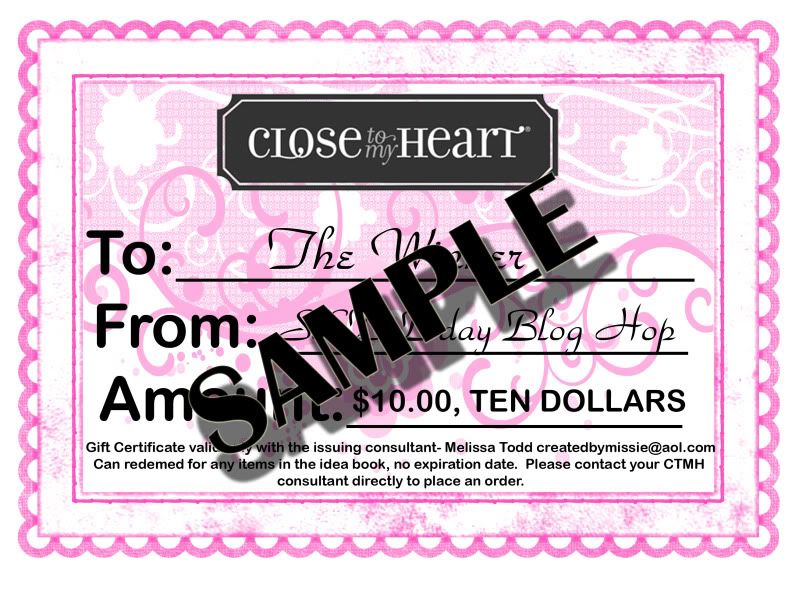 Thank you for checking out my project. I hope that you will become a follower of
http://sweetsassydiva.com/
and leave a comment. The fun doesn't end here though so be sure to hop on over to the next stop in the hop, Jennifer
http://scrapaholicjen.blogspot.com/
and remember to visit all the stops for more chances to win! Be sure to also check back tomorrow for some more celebration and more chances to win!
Here is the complete list in case you get off track:
Bobbi Jo
http://sweetsassydiva.com/
Lucy
http://love2createitall.blogspot.com/
Michele
http://www.michelegreen.com/
Gaby
http://www.gabycreates.com/
Mindy
http://grammiescraftroom.blogspot.com/
Lori
http://scrappinmystressaway.blogspot.com/
Missie
http://createdbymissie.blogspot.com/
YOU ARE HERE
Jennifer
http://scrapaholicjen.blogspot.com/
NEXT STOP
Paulette
http://scrapalette.blogspot.com/
Anita
http://www.anitaandbugs.blogspot.com/
Brenda
http://happyscrapper64.blogspot.com/
Dana
http://papermemories4u.blogspot.com/
Maria
http://stampcutcreate.blogspot.com/
Cori
http://createdbycori.blogspot.com/
Michele
http://chelescrafts.blogspot.com/
Sandy
http://thecraftycreationspot.blogspot.com/
Cindy
http://stkittsscrapper.blogspot.com/
Doris
http://mybugandmecreate.blogspot.com/
Dana Tarchala
http://danascraftycorner.blogspot.com/
Jenny
http://crazyaboutcricut.blogspot.com/
Suzanne
http://cricutcraftingrammy.blogspot.com/
Brenda
http://www.friendscraftinwithfriends.blogspot.com/
Shawnee
http://quiverofangels.blogspot.com/
Sylvia
www.bellascrapbookdesigns.blogspot.com/