This week's Cricut Circle Challenge is one that at first I wasn't interested in doing. I have created 2 projects this week already using SWD and I couldn't imagine coming up with another one. But when I saw that the directions said to create any type of project I choose, I decided to take it as a personal challenge. My intent is to use the cartridge, fufill the requirements, but provide a project that is outside the box for SWD.
Here are this week's instructions:
Weekly Challenge #12: Nine Ladies Dancing Challenge!
We have a really fun challenge for you today! For the Nine Ladies Dancing Challenge we want you to strut your stuff with your Cricut Circle Exclusive "Shall We Dance?" cartridge. You can create any kind of project you would like . . . but here is the twist . . . there needs to be NINE of SOMETHING on your project. Nine of anything! Nine buttons, nine flowers, exactly nine letters in a title, etc. Just as long as their is nine of something. Have fun!
Now for my project: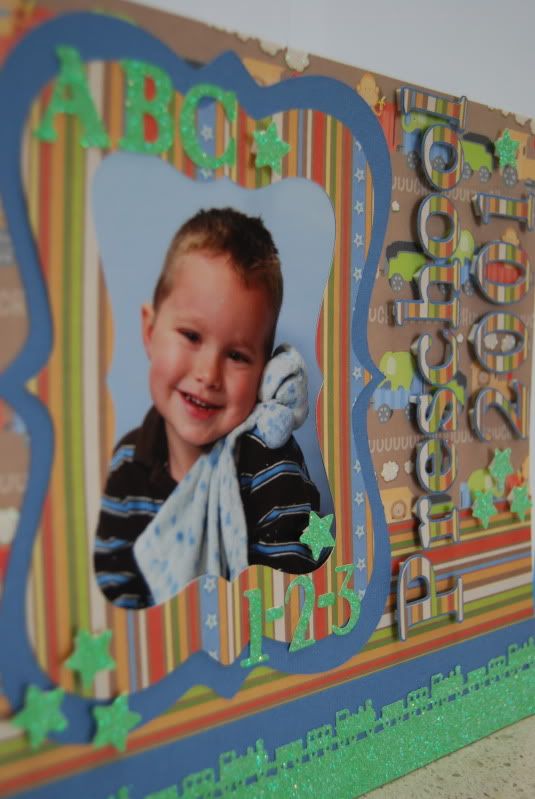 This is a photo of my son Blake taken just a few weeks ago. His preschool does not offer school photos, but I do photos with him twice a year. So, I have decided this is the photo that will go into his school book for this year. I used 3 cuts from SWD for the layout. The photo frame and mat were both cut from SWD along with the 1-2-3 in the bottom right of the photo mat. The word "preschool" and the year "2010" and "ABC" were cut from Cake Basics using both the font and the font shaddow. I used a Martha Stewart punch at the bottom for the train border a star punch for the green stars. FUFILLING THIS WEEKS REQUIREMENTS: I have used multiple cricut cuts, used the SWD cartridge for three complete cuts, and there are exactly 9 (nine) of those green glittery stars! Thanks for stopping by to take a peak at this project! Here are a few more photos: