I was inspired to create these pins because of all the beautiful flowers I have been seeing in the blog world lately. More spacifically Linda over at
The Paper Boutique
posted a lovely tutorial on how to make glubers last week. After trying it, I decided that while the glubers were a great idea they just wouldn't work for what I wanted to accomplish. So, I got out my trusty needle and thread and got to work. As Linda has created such a lovely tutorial I don't see a need to go through all of the details, but you might want to know that I simply ran a gathering stich along the edge of each piece of fabric or tulle and the tied it into a circle. If anyone really wants specifics leave me a message and I'll get to work on it.
Tulle 2 inches wide, 16 inches long. I played with the lenght and found any size really works. As I was using some leftover scraps from another project this is the size I had the most of.
Printed Fabric- 1 inch wide, 17 inches long, again the length didn't really seem to matter.
After I made the circles out to the fabric I stitched the two layers together, added a button and a pin! It really is a quick and simple project, but I love the way it turned out. I liked it so much I used the basis of the flower for a card...be sure to check it out
here
The pin on an apron
Close up of the pin
A second pin where I doubled the amount of tulle (length)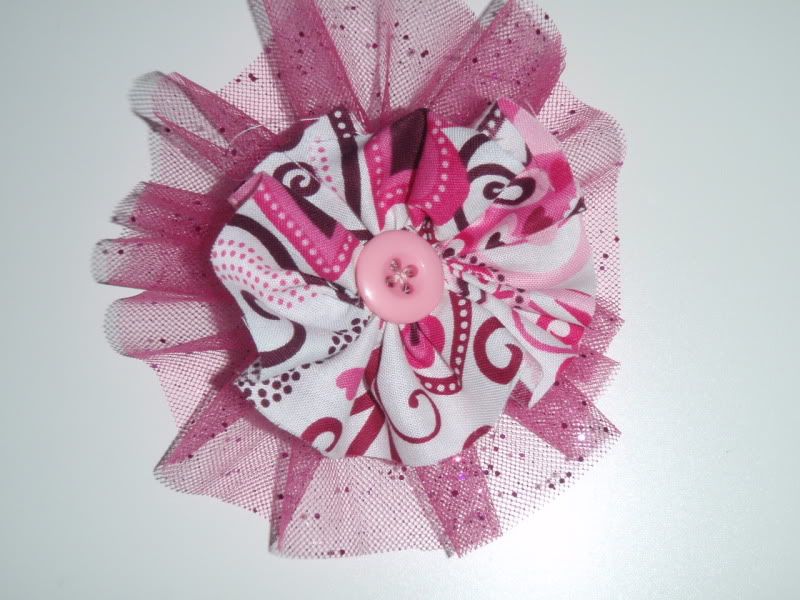 Two layers of fabric, no tulle