I love my Cricut and all it can do. This includes some NO NO program usage. I will always use my cartridges and continue to buy more, but I also like that there are other programs available ( MTC and SCAL) that allow you to create items you would never be able to find in an off the shelf cartridge. I personally have not used MTC, but I do own SCAL- sure cuts a lot. Computer programs are pretty easy for me to figure out, but if you are not great at working with a computer this program can be a bit difficult. However, I believe it is truely worth the price- even if you only use it for fonts. MORE ABOUT SCAL LATER.
So, for the wedding last weekend I used a stock clip art image, and altered it for the invitations, place settings, rsvp cards and other paper items. I did not do the actual designing of the invitations just the image work. I used that same image, manipulated it in SCAL and used it to cut vinyl for the center pieces. So, here are a few pictures of the process.
I know this picture isn't great as I took a photo of my computer screen, but I think you can get the idea here. Scal looks a bit like design studio, but will allow you to work with your own images. So, here you can see items to be cut laid out on the mat.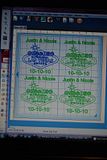 This is the vinyl after it has been cut and weeded. I cut each sheet down into individual images after I applied the transfer tape.
This image is on the center piece...I know it isn't easy to see in the picture, but it was cut from vinyl and applied to the flower vases...and just a bit of bling was added to the star.
The same image on the place setting cards
The center pieces with the table cards.